Concert for our Kids
The musical event of a lifetime came true for a Chai Lifeline Canada teen battling cancer and a group of deserving warriors. Jewish music superstar Mordechai Ben David joined Sheya Mendlowitz, Abie Rotenberg, Rivi Schwebel, Baruch Chait, Shlomo Simcha, Yanky Briskman, and Yochanan Chait for a private home concert that delighted, inspired, and uplifted our campers.
"When I saw Mordechai Ben David show up, I could not believe it. Then spending time with him…that was crazy, crazy, crazy awesome!" exclaimed cancer warrior Avi.
A Letter from one of our Campers
Dear Simi and Traci,


Thank you for coming to Toronto to visit me. I am so happy that you meet my whole family cause I love them so much and I am sorry for throwing up and crying if it made you sad. Please come again. I love you forever and I'm so happy Traci is my new friend!
love,
becky
Dont get cancer it hurts.
Camp Simcha Winter Reunion
By Adina Levitin (Staff, Camp Simcha & Camp Simcha Special)
Although the sky was cold and grey, our reunion in camp was warm and colorful! On Friday the 1st, we boarded buses, planes and cars and returned to the happiest place on earth- Camp Simcha. The dining room was decorated in an array of colors with all kinds of delicious candy. After arrivals and lunch, we had a colorful fashion show. Teams in different colors of the rainbow designed gowns and showed off their creations down the runway. Then we had races with jellybeans. It was a sweet time!
Friday night was uplifting and joyous with delicious food and stunning singing. We even met a few new friends! After the meal we had division activities where campers had to create skits using random objects in a bag. One group had to use a potato!
Shabbat day was a blast! Our campers performed different skits to display the concept of "judging one another favorably." In a humorous way, we learned a powerful lesson.?Next came lunch and then…. BINGO! It was intense! Every camper was a winner and won an awesome prize (thanks to all of our wonderful sponsors!) At dinner, we heard some of our campers speak about their challenges and triumphs. It was certainly inspiring.
After Shabbat ended, the excitement started again with DJ Yitzy rocking the Social Hall. Everyone danced and danced and had a blast!
When we returned to the dining room, we barely recognized it! Ginormous inflatable race courses filled the middle. A huge smorgasbord lined one side, with activity booths along the other. In one night we had enough workshops to match a week in camp! There were booths for lipgloss and eyeshadow making, candied apples, jewelry making, cookie decorating, picture frame decorating, and flower pot pen holders! There was even a professional portrait studio set up where we got to take awesome pictures with hysterical backgrounds! A favorite all around was the crayon melting booth. Using a canvas, a bunch of crayons and a blow dryers, we made colorful artwork! After a long night of creativity and color and time with friends, it was time to go to sleep. Wow, we did a lot!
Sunday morning welcomed us with a yummy breakfast and then… A Simcha style gameshow! Using trivia about camp, we competed for points and prizes. (Do you know how many acres Camp Simcha is?) Before we knew it, it was time to go home, but we went home refreshed and rejuvenated and only more excited for the upcoming summer. Summer 2013- the girls are ready!!!!
Thank you to all the campers, staff, colorfest coordinators and of course, our beloved Rivky for giving us a colorful Shabbat we will never forget!
Team Lifeline 2013
Team Lifeline's ING Miami Marathon and Half Marathon experience combines fantastic family fun with a breathtaking course along the streets of Miami and Miami Beach. This incredible race weekend experience includes three nights at the brand new, luxurious beachfront Eden Roc Resort and Spa in Miami Beach. Proceeds that are raised by our runners go toward Chai Lifeline and Camp Simcha. Thank you to all our 2013 runners!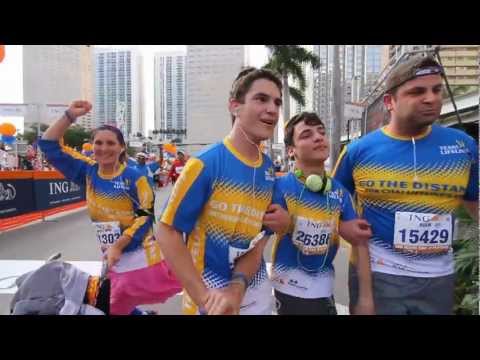 Find out more at TeamLifeline.org
Vote For Eitan!
The virtual Urban dictionary defines the word Nachas as: "Pride or joy one feels for another's success or accomplishment, esp if one took part in the process of achieving that success." When it comes to the achievements of former campers at Camp Simcha, I could not agree more.
In July of 2001, a young 5th grader named Eitan Levine made his way through the front gate of Camp Simcha displaying his own original perspective of a child at war with cancer. With a feisty but charming attitude this young man who was diagnosed with painful Ewing's Sarcoma in his left tibia waged his battles loaded with rounds of chemotherapy, follow-up surgeries and his own unique brand of encouraging humor. He didn't just tell jokes, or spin a situation in a funny way, his style included a brand of physical comedy to that rivals the late John Ritter and Robin Williams.
Over the summers I got to know him, Eitan grew to become a most talented entertainer. His antics as a college student at Yeshiva University even landed his face on a section cover in the New York Times, soliciting the attention of vice presidential candidate Sarah Palin. A couple of months later when he took a semester off to recover from surgery, Mr. Levine received a get well card on Alaska State letterhead handwritten by the hockey mom herself.
Steadily cultivating a reputation on the NYC comedy circuit, trouping with improv theather groups and hosting his own sports comedy radio programs, I couldn't be prouder of the intelligent entertainer that has emerged.  Last year, he even joined a group that preforms for the kids back in camp every summer.
Childhood cancer survivor and CS alum Eitan Levine has made it to the final voting round for one of 10 spots in the 2013 MLB Fan Cave, where he hopes to represent his favorite New York Mets – a team we know well. Thousands of applicants have been narrowed down to a select few from which to be chosen for the job via online voting until February 13th.
Polls open until February 13th – see Eitan's video and Vote Here! http://bit.ly/TTV5zC
Midwest Slumber Party
Joel and Iris Friedman generously hosted the Camp Simcha Midwest girls for a spectacular slumber party.
They enjoyed an indoor basketball court, floor hockey room, and a great movie with a delicious pizza and salad dinner. In the morning, the girls were treated to waffles, pancakes, and ice cream for breakfast.
Wish at the Wall 2012 for Teenage Cancer Survivors
National Cancer Winter Retreat
Last week, families battling childhood cancer gathered for a weekend of support at the LH Financial Services Annual Winter Retreat at Holiday Inn East Windsor. Thank you to all the families and volunteers who joined us for this fun-filled, healing, and uplifting weekend.
Happy Hanukkah!
It's been a busy week filled with Camp Simcha reunions and Hanukkah parties! The New Jersey Region enjoyed a festive party complete with delicious food, a BMX Stunt Show, and musical performances by Uncle Moishy and Dovid Gabay. Our Southeast Region had a Hanukkah Celebration at Funderdome with ropes challenge courses, a ball blasting arena, a high-energy laser maze, and a climbing wall. Canada's festivities included games, crafts, a soccer show, and exotic animals. The massive New York Region's gathering included dinner, crafts, and a concert by the Miami Boys Choir and Lipa Schmeltzer. Many thanks to our volunteers who helped with our toy drive! Happy Hanukkah to our whole Camp Simcha Family!