Last Day :-(
Oh, Camp Simcha… Oh, Camp Simcha…
Tears and smiles, crying and laughter, and hugs and embraces were this morning's activity. From the first bus that left early in the morning, to the last one that left in mid-afternoon, there was an air of nostalgia, longing, and a slight melancholy as the two most dreaded and difficult words were said from camper to counselor, "good bye". Nonetheless, real life does go on, so bags were packed, the yearbook is being prepared to be sent out, and the vans, cars, and busses all pulled away to wherever the destination. Camp Simcha 2010 was truly one of the best sessions ever, and it is our sincerest hope and dream that the magic, fun, and laughter that was felt and experienced by all, carries everyone through this coming year with joy and happiness.
Musical 2010!!!
Musical was of course a fantastic hit! Produced by Duvy "The Legend" Becker, it was about the aliens from planet Titer, who were inflicted with a horrible disease known as "Green Noses" which could only be cured by an injection of the Mumps from Planet Earth. With a few great performances by our very own British Invasion featuring Eli Skaist, David Hill, and Mordechai Massry, as well as some spectacular dance numbers, one of which even brought back Camp Simcha dance legend, Moishy Bienenfeld! For the grand finale, staff member Benjy Weintraub and Luke Weber sang a duet of "I Believe I Can Fly", at the end of which, Luke actually flew right over the cheering crowd! It was quite an impressive show, and everybody there enjoyed it immensely. Many thanks go out to all of the cast, Eli Balsam, Duvy Becker, and everyone who worked tirelessly on the video editing and backdrop painting. After the musical was the annual slide show, which featured pictures of every single camper, and now we are on our way to the grand banquet! Stay tuned for more last day events!
Shabbat-Take Two!
Shabbat is the most awesome day in Camp Simcha. Hands down. Coby iPods, great singing, and camaraderie abounded. We started Shabbat a little bit late, due to a mild thunderstorm that came and went while we watched in utter fascination and awe. But the energy and excitement that electrified the air even after the lightning was done was amazing as counselors and campers sang and danced as Shabbat came in.
Shabbat continued in typical fashion, with campers giving moving speeches after the meals, and the Duvy Becker Show kept everyone riveted and laughing in their seats.
At the end of the day, the threatening rain held back its temper as everyone was singing and linking arms with each other, drizzling only slightly until we were done, after which the sky opened up with yet another incredible thunder and lightning storm.
Once Shabbat was over, the oldest division was treated to a special bonfire just for them, while it was off to sleep for everyone else in anticipation of our uber-packed day tomorrow!! Stay tuned!!
Deal Day!
What a day, what a day! All of our campers were really high with excitement as they flew through the airspace around camp in a real helicopter! Decked out in special army fatigue t-shirts made special for this occasion, each child was treated to a ride a few hundred feet above camp in the helicopter.
After such an exciting morning, the psych just didn't stop! From flying high in the air, we moved onto "deal"ing with the people from Deal, New Jersey for Deal Day! During lunch, we met and greeted our friends from Deal and received yet another t-shirt from them. After lunch it was straight on to the carnival, featuring blow up rides, moon-walks, rock-climbing, and even a Mission Impossible booth where you had to avoid criss-crossing lasers just like in the movie! Everyone enjoyed the carnival immensely.
Dinner was then served…outside! We had a BBQ picnic in the front lawn of camp, everybody all together enjoying a nice burger or hot dog on the grass.
Bellies full, it was time to hit the gym, to watch Camp Simcha take on the Deal team in an intense game of basketball. The crowd was cheering and chanting the whole time, and at the end, it was a close game, but of course Camp Simcha came out the victor, and the whole camp rushed out onto the court to congratulate our winners.
For the day's finale, everybody, Camp, Staff, and Deal'ers alike got to relax under the stars and watch a spectacular array of fireworks. What a great way to end an even greater day.
NYC!!!
There's nothing greater than a Camp Simcha party. Except maybe a Camp Simcha party in one of the greatest cities in the world, NEW YORK CITY! After each camper and counselor received his awesome new 2010 edition Camp Simcha fitted baseball cap, we boarded the busses smoothly and on time to take us to NYC. Without any traffic, we arrived in the city pretty early, giving us some time to have a scenic lunch in one of the beautiful parks near the theater. We caused quite an uproar in the park, causing one of the park rangers to come out and see what was going on. As soon as we showed him how UBER AWESOME the campers of Camp Simcha are, he kindly agreed to let us finish our lunches quickly without any issues.
After lunch we took a nice stroll through Greenwich Village to the STOMP theater, where we were treated to an amazing show of percussion using random, everyday objects. The cast was kind enough after the show to sit on stage and answer questions from campers about their roles in STOMP and their lives in general. Even better though, they agreed to let everyone up on stage and take pictures with them, and Max G. was even treated to an arm wrestle with the "Macho Man", which he won! The whole cast commented on what a well-behaved, yet most energetic and interactive crowd we were. They had never had an audience like us before, and honestly, it couldn't possibly be otherwise, because we are Camp Simcha after all!
Moving along, we then boarded the busses to the South Street Seaport, where we ate dinner, went shopping a little bit in the mall there, and had a good time relaxing. A special kind of taxi ride was in store for us at the seaport, a big, yellow, water taxi ride to 34th street! The specialty staff was kind enough to take their bus over to Times Square so that they could greet us there with pomp and fanfare. They even managed to get some of their pictures on the American Eagle billboard in the square! So cool! Once all of the busses had arrived and unloaded, it was time for what we had been waiting for all day long. After a few rounds of Holey Moley and other psych-up songs, Dembi announced that we were going to do the dance to the FIFA World Cup theme song "Wavin' Flag" that we have been practicing since the beginning of camp. However, we did it with a twist, in classic, crazy, Camp Simcha style. Thanks to our talented recording studio staff, we produced our own version of the song, which was played and danced to by all of the campers and staff, right in middle of Times Square! It was quite a spectacle to behold, and everyone involved had a blast taking part.
By this time, everyone was exhausted after a long, fun, and fulfilling day, so it was time to get back up on the busses and head back to camp, where we are looking forward to another great day tomorrow!
(Attached is a link to a Youtube video of the event in Times Square, feel free to check it out and enjoy!)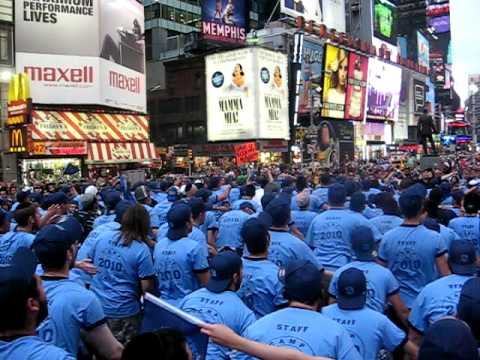 Camp Simcha is MAD!!!
What a day! Today's activities were fun, educational, and meaningful, all complementing each other to make each other truly great.
It was so cool to see the amazing creation that went on in the gym. Thousands and thousands of different colored Lego bricks were brought in for the campers' creative enjoyment. The children sat in the gym and built and shaped and constructed a whole assortment of different things out of their Lego bricks, eventually coming together to represent a city chosen at random by the children. Given the current state of affairs in Israel, Jerusalem was picked to be built out of the bricks, and everyone had a great time re-creating the city together.
Here are some of the highlights from today's intense baseball game. Noah S. made an amazing diving catch, Max R. and Noah G. teamed up together and pitched two perfect innings. They even managed to strike out our head counselor, Ari Dembitzer! Tomas got his first ever hit in a baseball game, a major milestone in any boy's life, as it surely was in his. And last but certainly not least, Bruce got himself a base hit!
Usually Camp Simcha is just B-A-N-A-N-A-S, but today we were MAD! Mad scientists that is, as we were treated to an awesome scientific show. The big hit of the day was the dry ice, (frozen carbon dioxide, for anybody who doesn't know) which our performer put into different types of cups and containers and made all kinds of crazy steam. Several campers, including Yam, Adan, the 3 Noahs, Max, Danny, and more, were called up to assist.
All in all, it was a great day, an exhausting day, and all of our campers went to bed nice and early in excitement and expectation of tomorrow's major trip! We can't wait!!!
Bonfire!
Wow! There's nothing like sitting around a bonfire, linking arms together with your friend, singing your heart out. And that's exactly what happened tonight in camp. At around 10:15 P.M. or so tonight, Bentzi Brown and Co. set up a tremendous bonfire behind the pool area in camp, around which all of the campers and counselors were able to sit, link arms and truly release their emotions through slow, melodic song, as opposed to the usual wild n' crazy dance party music that we are used to listening to. Our head counselor, Ari Dembitzer, spoke about our innate instincts to help one another in a moment of need or a situation of danger. It was really a great way to bond with each other, and to emote outwards to others, as well as feel and commiserate with everyone else's emotions at the same time.
SUPERHERO DAY!!!
Superman! Batman! Spiderman! Even Captain Underpants was spotted roaming around camp today. The theme of the day is superheroes, and I have to say, everyone did a super job dressing the part.
We had some super activities as well today. In glass fusion the boys made pendants, plates, necklaces, cuff links, and anything else the mind can "imagine". In leatherworks the Israeli boys made key chains, belts, etc. Candle-making was exciting as always, with crazy things from regular candles to enormous blobs to hand molds being made out of hot, melted wax.
Today's highlight though was the incredible show featuring Steve Max, world-renowned for his difficult and confusing Simon Says challenges. A total of six campers were called up to be a part of the show, as well as two counselors to be stumped and bamboozled time and time again. Luckily, one of our counselors Dovid S. managed to overcome the challenge and win the title of Camp Simcha Simon Says Champion 2010. When Adan and Simon got called up for their turn, Steve got totally mixed up about Simon's name, and kept saying it wrong! Adan wouldn't stand for such injustice, and made sure to correct Steve until he got it right. Steve was so impressed with Adan's concern for his friend, and made a point of showing everyone how a person should behave toward his fellow. We're all looking forward to tonight's bonfire-side sing-a-long.